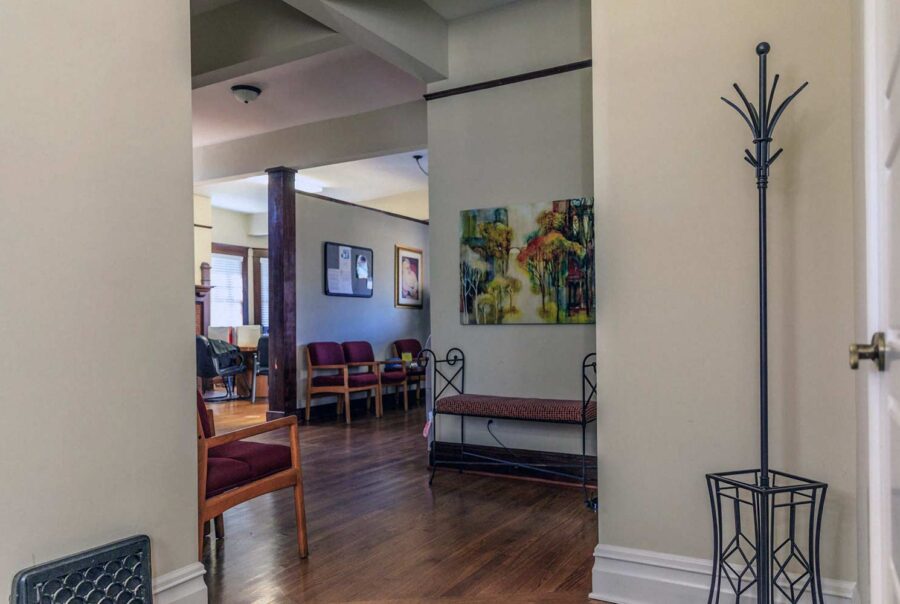 Our location puts patient comfort first.
You will feel comfortable and right at home from the moment you first arrive at Triad Clinical Trials. That's because our clinic operates in a beautiful 3,000-square-foot farmhouse built in 1905 by the Hodgins family. The farmhouse is adjacent to the historic campus of Guilford College and near the birthplace of Dolley Madison (1768-1849), who was married to the fourth President of the United States, James Madison.
The farmhouse was known as the Hodgins Retreat for many decades. It remained with the family until it went through an extensive renovation in the early 2000s for use as a medical research clinic. Triad Clinical Trials moved into this farmhouse in 2015.
The renovation embraced and preserved architectural history. The clinic's interior features original plank oak floors, heavy crown molding, and solid wood doors, all of which add character. In 2020, the clinic's front porch was enclosed to accommodate the needs of COVID-related clinical trials; the space allows for optimal airflow and social distancing to help keep our patients and staff members safe.
The Triad Clinical Trials clinic backs up to over 100 acres of protected forested woodlands, so there are beautiful views of nature everywhere. Plus, the clinic's layout, furniture, and decor might make you forget that you are at a research clinic. There are four private exam rooms and spaces for study assessments and research monitoring.
We think it is essential to have a clinic that can establish a great first impression with you. It will set the tone for the clinical trial you participate in and make each of your visits positive, relaxing, and something you look forward to.
Now is the time.
If you live in the Triad area and are interested in participating in a current or upcoming clinical trial, we invite you to sign up today. We are confident that you will enjoy visiting our location and appreciate the informed, unhurried care that more than 5,000 residents in and around Greensboro, North Carolina have experienced.
Reasons to participate in a clinical research study.
Your participation can help provide us with important information to move forward.
Participating in clinical research offers you access to leading-edge medicines.
Some clinical research studies offer participants compensation for time and travel expenses.